Brazilian soccer team Chapecoense were on board a plane carrying 81 people on board, including players from the top-flight Brazilian football club, when it came down in mountains near the city of Medellin.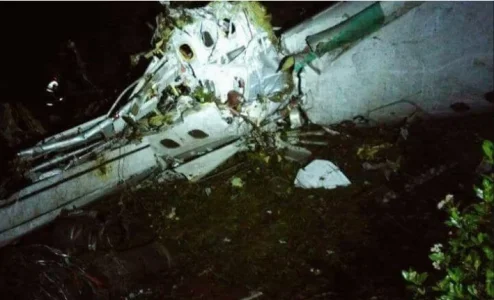 Below are 10 things we know so far:
1. 81 people crashed in Colombia killing 76 people. Six people were rescued alive, but unfortunately one died.
2. Chapecoense, from Brazil's top league, had been flying in to face Atletico Nacional of Medellin in the first leg of Wednesday's Sudamericana final, South America's equivalent of the Europa League.
3. The plane took off from Bolivia's Viru Viru airport at 6:18 p.m. local time, according to air controller Manuel Palamas.
4. The charter flight was carrying 72 passengers and nine crew, when it crashed around 10:15 p.m. on Monday.
5. The plane declared an emergency between the municipalities of La Ceja and La Union, according to a statement from Colombian aviation officials.
6. Brazilian media reported that three players were among the survivors. They are: - defender, Alan Ruschel, goalkeeper, Danilo and reserve goalkeeper, Jakson Follmann.
7. Flight tracking service Flightradar24 said on Twitter the last tracking signal from flight 2933 had been received when it was at 15,500 feet, about 30 km from its destination,
8. This is the first time the club from Chapeco had reached the final of a major South American club competition but they were underdogs against a club going for a rare double after winning the Copa Libertadores in July.
9. The South American football federation suspended all games and other activities following the crash.
10. Although the cause of the crash is yet unknown, satellite images show that scattered showers and thunderstorms have moved across the region over the last 12 hours. There likely would have been turbulence in the region due to intermittent thunderstorms and winds from around the mountains in the region, CNN meteorologist Michael Guy said.