A driver attached to the Cross River State Commissioner for Commerce and Industry, Calistus Okune, was on Wednesday remanded in the Afokang Prison in Calabar for assaulting two officials of the Federal Road Safety Corps.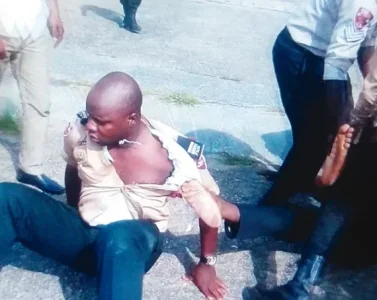 Okune was alleged to have acted on orders of his boss, Mr . Peter Egba, after the Toyota Corolla that he was driving was impounded for several offences , including driving without using seat belt and use of fake government number plate.
The incident was said to have happened in front of a magistrate , who presided over cases of traffic offences , during a mobile court session facilitated by the FRSC.
While one of the affected FRSC officials was beaten up and had his uniforms torn by the aggrieved driver, the other had a deep cut in his head .
One of the assaulted FRSC officials , Fidelis Eteng, who spoke with Punch, said trouble started after he had impounded the vehicle for the offences.
According to him , the commissioner rushed to the scene shortly after the vehicle was impounded and in the course of argument, he ( commissioner) gave an order to the driver and others to " deal with " those responsible for the seizure.
Angered by the disregard for judicial authority on duty , the sitting magistrate , Dorothy Duke , ordered that the driver be remanded in Afokang Prison until February 3, when the case would be heard.