The National Industrial Court of Nigeria in Kaduna on Thursday ordered Kaduna State government to stop the planned sack of 21,000 primary school teachers who failed competency test.
Recall that Kaduna state governor, El-Rufai had announced that the teachers who failed the competency test organized by the government would be sacked and replaced with new ones, resulting to protest by the teachers
The teachers had in October dragged the government before the industrial court, asking the court to stop state government from sacking any teacher on the basis of the test conducted in June 2017.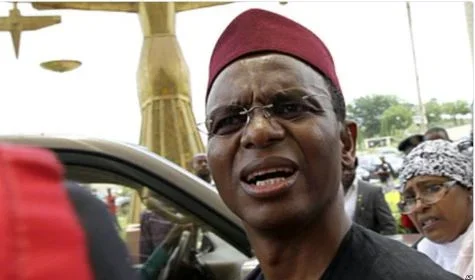 Samuel Atum, the lawyer who represented the teachers, had on October 30 filed a motion of "interlocutory injunction", asking the court to restrain the government from dismissing or disengaging any teacher on the basis of the test conducted in June 2017.
Justice Lawal Mani on Thursday at the hearing granted the application pending the determination of the substantive suit and adjourned the case to February 6th, 2018.
The plaintiff's counsel lauded the court for granting their order against the plans of the state government.
Meanwhile, hundreds of Teachers present at the court were seen jubilating and congratulating themselves over the court injunction.