A new strain of Avian Influenza virus, popularly known as bird flu, has entered Nigeria and spread to 26 states and the Federal Capital Territory, with over 3.5 million birds affected, the Federal Government has said.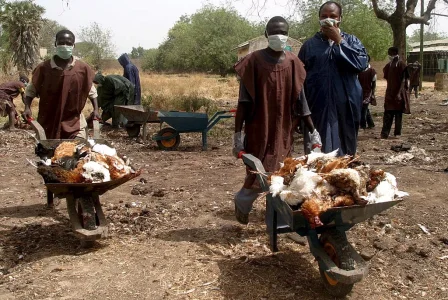 According to the government, in a bid to prevent the entry of the disease into their respective countries, Nigeria's neighbours have proposed a ban on poultry and poultry products from Nigeria.
The Minister of Agriculture and Rural Development, Chief Audu Ogbeh, disclosed this in Abuja for Tuesday at a consultative meeting with commissioners for agriculture/livestock, states directors of veterinary services and major stakeholders in the poultry industry.
Ogbeh said: "Recently, a new strain of the bird flu virus (H5N8) was reported in Kano. The new strain is believed to be very pathogenic and more devastating to poultry species and, therefore, it may further add to the burden of the H5N1 strain that is currently circulating in the country.
"The disease is transboundary in nature and also trade-limiting; some of our neighbouring countries have proposed to ban poultry and poultry products from Nigeria. This may undesirably lead to an egg glut in the country."
Ogbeh stated that there were already huge and unacceptable losses in the poultry industry and the nation as a whole, and urged the agriculture commissioners of the various states to retrace their steps in order to provide safe food for Nigerians as well as ensure national self-sufficiency in food production.
To help address the challenges, Ogbeh said the Federal Government had provided disease containment materials, reviewed the national emergency preparedness plan on Avian Influenza, enhanced the laboratory diagnostics capacity at the National Veterinary Research Institute in Plateau State, and created awareness and advocacy on the disease.