Interesting headline from the Nigeria Sun newspaper credited to the new Governor of #Anambra State, Gov. Willie #Obiano. Read the excerpts below:
From Nigerian Sun Newspaper
The intense crackdown of criminals in Anambra State entered a new phase at the weekend when Governor Willie Obiano announced his readiness to deploy drones and a handful of other hi-tech surveillance equipment to smoke out criminals in the state from their hiding places for immediate arrest and prosecution.
The governor, who spoke at the final test-running of the drones at the Governor's Lodge, Amawbia before their deployment to trouble spots across the state, also declared the resolve of his administration to sustain the campaign against kidnappers, armed robbers and other organised crimes in the state until they were either driven out or clamped in jail.
According to him, his decision to use hi-tech devices to track down criminals in the state marked the commencement of the second phase of the ongoing campaign, which relied on sophisticated intelligence gathering and clinical insolation of the flash points of crime to ensure a comprehensive cleansing of the state of all criminals.
Click here to read more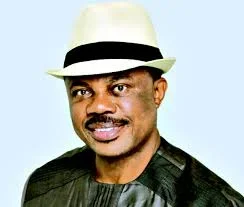 Source: #SunNews