A tomato paste factory belonging to Africa's richest man, Aliko Dangote has been shut down due to shortage of dollars needed to import raw materials.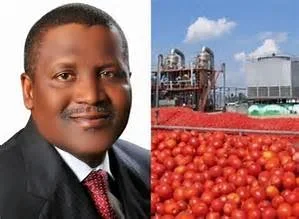 This is the second major tomato paste factory that has packed up in Nigeria under the Muhammadu Buhari administration. "Where the foreign exchange is not available, we are cutting down our operations. For example ... we had a tomato-based processing plant, we have shut it down," Edwin Devakumar, a senior executive with Dangote's business, told Reuters in an interview.
Dangote's plant opened only last year in Kano.