One-time Peoples Democratic Party, PDP governorship candidate in Osun State, Senator Iyiola Omisore has claimed that operatives of the Economic and Financial Crimes Commission, EFCC, and their APC godfathers are split over the allegation of corruption against him, insisting that he did not collect any money from the former National Security Adviser, Sambo Dasuki.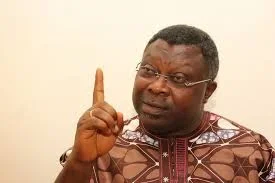 Omisore, who was alleged to have collected N1.3 billion from the office of the former NSA, is currently in court with the EFCC over the matter.
In a statement issued yesterday, the former chairman, Senate Committee on Appropriation told the ruling All Progressives Congress, APC, to "go search for crooks, election riggers and government money embezzlers in your party."
According to the erstwhile Osun State deputy governor, "EFCC operatives are in disagreement with their political APC godfathers. That is one of the reasons for dodging court summons as I exposed on AIT on Thursday. Nigerians are hereby alerted by the killer democracy, abuse of human rights and utter disrespect for the rule of law by the Buhari administration on illegal arrests, backdoor detention warrants and tyranny."
He insisted that he did not stash a whopping sum of N1.3 billion, being money collected from the Office of the National Security Adviser, ONSA, in his bank account, dismissing the rumours making rounds as sheer blackmail.
He said that the anti-graft body had been using falsehood to harass him, stressing that it was evident in the way the latter had said he at one time took N700m and later changed the figure to N1.3billion.
He also accused the EFCC of dodging court summons in the suit he filed against it, an indication, that the body was not bold enough to stand up to its claims.
Source: Daily Post