Days after it was revealed that Davido is expecting a second child from 24-year-old Georgia University undergraduate named, Amanda, the popular Singer is embroiled in a fresh paternity case.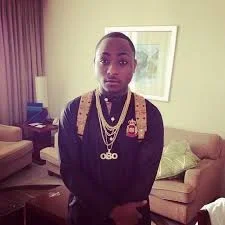 A young lady, Ayotomide Labinjo, has stepped forward alleging that the 'Dami Duro' singer is the father of her daughter, three-year-old Aanuoluwapo. The told Saturday beat that Davido abandoned her after she got pregnant for him.
Labinjo said, "In February 2013, I met Davido at a club in Ibadan and he approached me and said he liked me. We became friends and got along. He only came to have a good time then. We left the club in his Range Rover Sports for a hotel around Challenge in Ibadan where we slept together. I left him there the following morning. Before then, I had no boyfriend so I was not used to going out but my friend invited me to the club that night.
"We only met twice in Ibadan and we slept together on both occasions. The third time I would see him again was when I and my mother went to his house in Lagos more than a year after the birth of the baby. He preferred to call me Enitan because that is my other name.
"When I told him I was pregnant at the end of March 2013, he said I should keep it but the following morning, he blocked me from his Blackberry Messenger list. I could not reach him throughout the period I was pregnant. On each of the days we met in Ibadan, he had a police and three body guards with him.
"On the day the baby girl was being named, he added me again on his BBM and I sent him her pictures. He asked me what I wanted and I told him that he should take up the responsibility of the child. But he blocked me from his contact list again the next morning. We named the baby Aanuoluwapo but he preferred to call her Vero and anytime I asked for anything, he would embarrass me.
"My mother was furious about his attitude so she wrote a letter to his father but he did not reply until our lawyer, the late Bamidele Aiku, wrote to him. That was when his father arranged for a DNA test and we went to Lagos for the test."
''He later sent his driver to Ibadan to bring us to Lagos for the test. After meeting him, he told the driver to take us to Davido's house. We met him and his brother Wale, his cousins B.Red and Shina. Shina told him he would not be a party to this (paternity tussle).
"From there, we went to a hospital, Davido was in another car. I was suspicious of the whole set up because there was no indication that the facility could handle DNA test. My daughter was called upstairs with Davido and the child. My daughter was left outside a door but out of curiosity, she opened the door and saw Davido giving lots of money to the doctor after his father had already paid for the DNA test.
"Davido and the baby's blood samples were only taken so I asked the doctor why he did not take that of my daughter because Davido's father had told me that he paid for the three people at N65,000 each. They asked us to come back after two weeks but the result came out after seven days. Davido's father sent a car to bring us to Lagos again for the result. Davido had left the country then. The result showed that Davido was not the father but my findings after that showed that only blood test was carried out and not DNA test."
When Davido was contacted through his manager, Asa Asika, he said, "Apologies for the delayed response, I have been flying. This is not a true story, thanks for reaching out to clarify. Thanks."