The Royal Majesty, Emmanuel Onyeike Efeizomor II, the Obi of Owa Kingdom in Ika North East Local Government Area, Delta State and Vice Chairman of the Delta State Council of Traditional Rulers has had many near death tragedies in his 77-year sojourn on the planet earth.
He shared how he slept with a big snake for 5 days with Vanguard Metro.
According to him: "Well, it is not everything that happens to man that you want to expose. Perhaps, if you begin to do a lot of in-depth explanation, if there are forces working against your interest, you might be reminding them that they have not done enough homework to be able to get at you adversely, that force can be reinvigorated, but simply put it was the first experience.
I can play with a dog and make it to go to sleep, the same thing I do with goats, the fowls were about three when they were handed over to me and in no time, it went to 100, the whole place was filled- up and they multiplied. We had a cage where he we put the hens and cocks and just by the boys quarters, we have places that we keep wood to prevent rain from falling on them.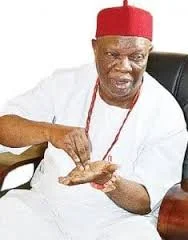 I didn't know when I raised alarm
I was listening to music and watching them, suddenly but close by, the fowls would make some disturbing noise and I wondered why they were making noise incessantly, so I came very close to watch. I sat by the side of the house to find out what was happening. Unexpectedly, I saw a shadow moving by the side of the wall and the thing was crawling, a light flashed and I saw it moving like a snake, I watched closely but still do not know what I saw, I was confused and did not even know when I raised the alarm. I shouted: see snake seriously; they jumped out from where they were dancing.
Mr. Diai and others asked me where is it, where is it, I said I saw it there, they showed bravado, searched the place, the thing went underground, they did not see it. They went back to continue with their party, the man gave me a very serious knock on the head saying that I was a crook and that I was disturbing their enjoyment. I felt very sad and still went back to the place. Then, I saw the thing again, I could not bear it, I called another houseboy from another master and he raised alarm much more than I did.
They ran out again and felt that this time around, let them look for it. They were using a long stick to poke everywhere to see whether it would come out until one of the teachers saw it, it was by the edge of the wall, and it had put its head up. He threw his stick away and ran and as he was running, he was raising alarm. It was only then that they began to feel that there was sense in what I was saying. Finally, they brought a torch and started looking for it.
The whole school, community, came to see the snake
Diai himself not too sure of what they were saying fired his dane gun in that direction, it was in the course of that the snake was hit and it moved out from that place, there was reflection as it crawled away and they saw it and shouted. They rushed back for cutlass, wood and he loaded the gun again. He fired again the bullet did not hit the snake properly, it was not even acting as something that was shot at, but it moved towards the pit.
It took considerable efforts before they were able to hit the snake on the head, so that was when the speed slowed down and in the course of that, they killed the snake. They pulled it out, it was very long and heaped the woods fetch by the pupils for teachers in their quarters on the snake and set it on fire with kerosene. It burned all night. In the morning, teachers not staying in the quarters came to see it, the pupils not campus came to see and then the community came to see it.
It was after that Diai said I should no longer be sleeping in that place. He gave me one room in the main house. You can see when the snake came, it did not attack me, and it went to eat fowl, egg and all that, so why should I not thank God."
Read more on
Vanguard
Last edited: