Damning revelations have been made against the Chief Judge of Delta state, Justice Marshall Umukoro, who according to credible sources, has compromised at least two of the three members of the tribunal handling the governorship, House of Assembly and National Assemble elections.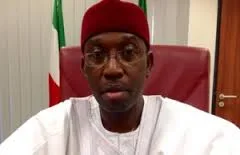 According to one of the sources who is a senior official in the Delta State Judiciary, two of the judges handling the election petitions in Delta State with the exception of the chairman, Justice Nasiru Gumi allegedly shared 3 billion provided by the Governor Ifeanyi Okowa. This is to buy the officials into delivering favorable judgements validating all elections in which candidates of the PDP were decided winners. The source also claims that the tribunal is set to deliver judgement upholding the elections of all PDP officials and even "those with bad cases at the end would go home smiling".
Also, a well-placed security source corroborated those claims as he confirmed that the tribunal members had indeed been compromised. He gave an instance of the state assembly speaker, Mr. Igbuya who against all odds was extricated. "His case was so bad that even his lawyer was praying the court not to cancel the results totally, but to order a rerun in some areas. But all of a sudden, a favorable judgment was given to the same Igbuya" he lamented.