Senator Dino Melaye, representing Kogi west senatorial district has reacted to the emergence of Ahmed Lawan (Yobe North) as the new Senate leader of the National Assembly.
The All Progressives Congress (APC) caucus in the Nigerian Senate on Tuesday wrote the Senate President Bukola Saraki over the appointment of a new leader.
Melaye in a phone chat with Channels Television, Politics Today anchored by Sulaiman Aledeh on Tuesday night said: "Senator Ahmed Lawan's nomination by APC Caucus as Senate Leader has come to stay".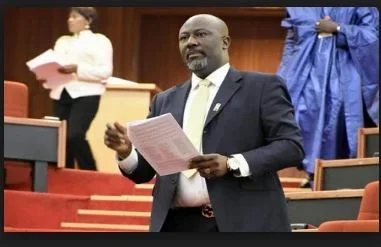 "Nothing new about change of leadership, the leader of the senate is in the position as result of the decision of the member of the senate.
"Due process was followed.
"The names on the signatory weigh above simple majority and duly signed by the stipulated number by law".
"He said the leadership of the APC in senate met and we felt to change figures of the party in the state and drive home a united APC by working closely with Mr. President.
This is purely a caucus decision of the APC, he said.
Recommended:
APC Senators Write Saraki, Appoints Ahmed Lawan As New Leader