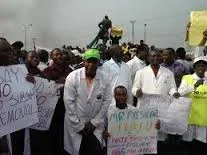 T
he Joint Health Sector Union has taken the Nigeria Medical Association to court for going on strike, claiming that the NMA lacks the constitutional right to do so.
Joined in the suit are the Federal Ministry of Health, the Federal Ministry of Labour and Productivity, the Registrar of trade unions, and the Attorney-General of the Federation.
Speaking at a press conference called by JOHESU in Ibadan on Wednesday, the General Secretary of the Senior Staff Association of Universities, Teaching Hospitals, Research Institutes and Associated Institutions, Moshood Akinade, said the doctors acted in an unprofessional manner by their refusal to treat patients, adding that COHESU has challenged the action of the doctors in court.
Among other things, COHESU is challenging the constitutional rights of NMA to call for a strike particularly when it is not a legally registered trade union.
Click here to read more
Source: #PUNCH