The Speaker of the House of Representatives, Yakubu Dogara has promised that the House would ensure the passage of the details of the proposed 2017 budget at plenary to avoid the controversy that trailed the 2016 budget..
Dogara who spoke while welcoming members of the House back from Christmas and New Year break said the House would implement reforms to the budget process that would make it more transparent and devoid of controversy.
In his speech, Dogara said the House would do everything to avoid controversies and assured the quick passage of the 2017 budget.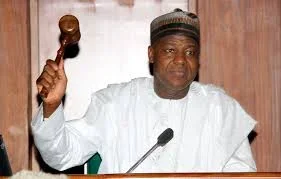 The speaker also said that the House was committed to enact legislation that would pull the country out of the current economic recession, saying "the 2017 budget remains the major tool to revamp Nigeria's economy and pull it out of recession."
On fiscal and monetary policies such as import prohibition and the recent announcement of a new tariff regime, the speaker promised that the move would "receive appropriate legislative scrutiny to ensure that the economy and the interests of our people are protected.
Recall that the 2016 budget was enmeshed in controversies that included budget padding, which resulted in the removal of Rep Abdulmumin Jibrin (APC, Kano) as the chairman of appropriation committee.