Stanley Eguma, the head coach of Dolphins FC or Port Harcourt, has insisted that his side will not be relegated despite their unfavourable position on the NPFL log.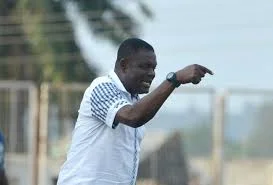 The Liberation Stadium outfit are currently in the relegation zone with nine games to go till the season winds off.
"The league is not over, we still have nine games to play so we can't write off ourselves. We will work hard so as not to go down at the end of the day," Eguma said.
Eguma further blamed their defeat against Enyimba last Sunday on the poor state of the Aba Township Stadium pitch.
He said though his team lost concentration and conceded the goals, a good pitch would have allowed his team play better.
"We lost concentration in the second half after playing well in the first half. We conceded the goals due to loss of concentration," he lamented.
"The bad state of the pitch did not allow us play our normal game. We prepared well for the game, but unfortunately we lost."
Also, Dolphins defender Jonathan Zikiye shared the optimism of his coach.
"I believe we can escape relegation, this is football where anything can happen. We are hopeful and have not given up," Zikiye said. AfricanFootball