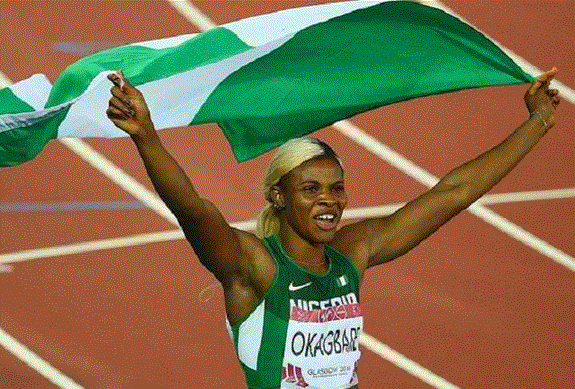 Yet again Blessing Okagbare has proven her value to Nigeria by winning the gold medal in the finals of the women's 200m event at the 2014 Commonwealth Games.
Okagbare made it a sprint double in Glasgow,replicating her feat in the 100m event in Monday,to power way to victory in the final of the 200m event on Thursday with a time of 22.25secs.
It was an effortless win for the Nigerian athlete who had no difficulty racing to the finish line in a triumphant victory.
Okagbare with her win on the night made it a sprint double at the Glasgow 2014 Games,putting Nigeria on the map of greatness.
Meanwhile in the Women's Long Jump event, Ese Brume achieved a 6.56m leap to win Nigeria's second gold medal of the night.
Okagbare would have competed in the Long Jump event but it clashed with her 200m,so she chose the latter over the former.
However it served to announce the arrival of another Nigerian athlete who defeated all comers to win herself a gold medal.
Meanwhile in the final Men's 400m hurdles,Chris Morton gave a good account of himself to finish 5th with a time of 49.65secs.