The KCSE exam is undoubtedly the toughest hurdle in the 8-4-4 system. Most Kenyans who have been through that system can relate with that sentiment.
It is the dream of every parent to see his/her child reaping the fruits of academics and probably outshining the others to become a decorated scholar or professional. As competition amongst the KCSE candidates heats up, it calls for radical measures for a student to make the cut.
KCSE past papers
with answers are the ultimate student companion during revision, reducing exams a mere walk in the park.
A pass in KCSE will definitely assure a smooth transition to higher education. With the pass mark to joining either public or private universities being a mean grade of C+, students have to beat the system to emerge victorious. Therefore, a quick review of at least 4 places where you can download the past papers would be necessary. It's however regrettable to notice that a large percentage of exam malpractices like cheating are as a result of the wanting state of Kenya's education system, that basically prioritizes the passing of exams rather than fostering an environment geared towards skill developments. With proper revision using past KCSE revision papers with answers, you are assured to make a promising career of your choice.
To get an understanding of the various KCSE subjects being examined by the national examination body, KNEC (Kenya National Examination Council), it's paramount we highlight the categories-Sciences, Compulsory subjects, e.g., English, Humanities, technical and languages. A deeper look into the 8-4-4 system tells you it's on life support. As Standard puts it, passing in exams has become a matter of life and death. With the alternative system still far from reaching secondary school level, students have to rise above board to ensure they earn good grades. Passing in any national exam goes beyond just following instructions.
A downward spiral has characterized recent year's performance. According to Nation, More than half of those who sat for last year's exams failed and will miss a chance to join the university. Barely 10 percent managed to garner an average score. All hope is not lost; Proven strategies have been deployed successfully including the use of revision materials from past KCSE exams to ensure proper coverage of the syllabus. These past KCSE revision papers with answers will aid in identifying a student's weak area and guarantee the curriculum is in line with the concepts of the expected syllabus to be tested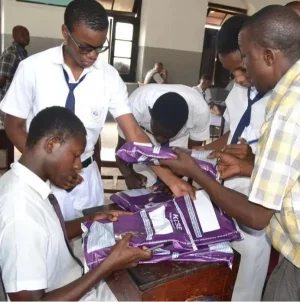 As long as the complexity and challenges of the exams outlined above are beyond the grasp of the average high school student, it seems we have to rise beyond the challenges. Good performance exhibited by students who took the advantage of the rich content of KCSE past papers is commonplace. The challenge here is that a KCSE exam candidate who is expected to use the free KCSE past papers with answers to master the strategy and tactics deployed during formulation of these exams. This will definitely help the candidate to fully understand the content in all aspects and whichever angle the examiner tests. The result can be so fulfilling. Nevertheless, the lasting secret to success in KCSE is hard work.
Responding to the rising demand for these KCSE past examination papers, various websites have cropped up. They seem to target mostly the urban students from all walks of life. One can take unlimited online tests or have access to hundreds of KCSE past papers. By parting with a small fee, you are guaranteed a gateway to a large stockpile of Past exam content that dates back to more than ten years. Regional administered KCSE mock papers pdf together with their respective marking schemes are available.
The many sites available are so extensive to be exhausted, but I will list just a few that gets a nod from various education stakeholders and high school students in general:
Elimu Holdings Limited
It has one of the richest content of KCSE past papers with answers. From class notes to syllabus and quizzes, it promises to be a one-stop shop for educational material for both teachers and parents. With just Kshs.100, tonnes of mock past papers, Marking schemes and KCSE past papers are available for download in pdf file.
FREE KCSE PAST PAPERS

Yet another platform that doesn't disappoint with an extensive number of contents at disposal. Most KCSE can be viewed and downloaded for free. Mock past papers dating back to 2006 are on offer. For the Marking schemes, you will part with a flat fee of Kshs.250 for each year.
Online Tutors

The user interface is very appealing and with its well-organized graphics. Members who subscribe to any of the pay plans are certainly at free to Download KCSE past papers with answers, revision booklets, and curriculum e-books. It supports PayPal payments.
Revision

A great source of KCSE past papers with answers for revision and self-evaluation with the available marking schemes. You are provided with thousands of collection of revision papers, the icing on the cake being it's absolutely free!!
Exams

The site offers past papers from different regions of the country to help you study and revise for your final exams. Secondary school past papers are billed at Kshs.25 each and the marking schemes go at Kshs.50 per paper. You can also make payments via Mpesa via till number 323253.
Be diligent in choosing the source of your past papers. It would be paramount and convenient to have marking scheme accompany all the KSCE past papers you settle for. Students are advised to consult with their teachers for guidance on the relevance of the papers they intend to use during revision. The government plan to overhaul the education system in the coming years will, of course, bring lasting changes to the way high school students are examined, consequently, it is expected to reduce the coursework burden on students.
Source:
Breaking news Kenya | TUKO
Last edited by a moderator: