A man living in Iyana Ejigbo area of Lagos State has sent his wife packing for refusing to scream while being raped by robbers in presence of her husband.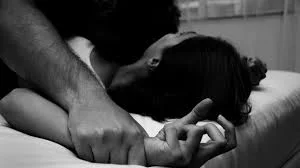 The incident, which happened around Bello Street left many people in confusion.
It was gathered that the heavily armed gunmen had invaded their house around 3am and demanded for money.
Daily Post reports that the man, whose identity was given as Baba Eneh, a native of Owukpa in Ogbadibo LGA of Benue State told the robbers that he only had N3'500 at home.
A resident of the area hinted our reporter that Baba Eneh, a road transporter begged the robbers to leave them after collecting the money, saying that they just got married and trying to settle down.
Angered by the man's inability to provide money, the robbers descended on the wife and started raping her.
Drama occurred during the incident as instead of the woman to scream for help, she was moaning in excitement.
"Instead of her to cry for help, she was busy making some funny sounds, an indication that she was enjoying the sex, even in the presence of her husband," the source said.
After the robbery incident, the man reportedly ordered her to leave the house on the ground that she disgraced him.
According to the source, it is against the gods of Owukpa for a married woman to sleep with another man.
The man, who was apparently afraid of dying, asked the wife to return to her village until the necessary sacrifices are done.