The Defence Headquarters on Saturday announced the arrest of another wanted Boko Haram member, Danladi Abdullahi, in Maiduguri, the capital city of Borno State, who is suspected to be the terrorist number 26 on the list.
The arrest was made by the Borno State Command of Department of State Services (DSS) on Saturday morning at Moduganari area of Maiduguri metropolis.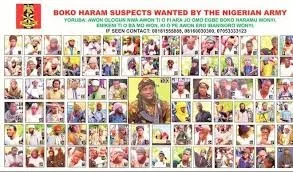 This brings to three the number of Boko Haram members arrested among 100 declared wanted by the Nigerian Army recently.
"Although he is still being investigated, it has been positively established that he is suspect number 26 on the list of the declared suspected Boko Haram terrorists issued by the Nigerian Army last month," the Defence spokesman Rabe Abubaka said in a statement.
- Guardian