A former Governor of Benue State, Gabriel Suswam, has been arrested by the Department of State Services, DSS.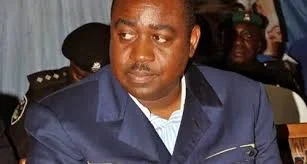 The ex-governor was arrested over items recovered inside cars in a building in Abuja, reportedly belonging to him.
DSS in a statement by its spokesman, Tony Opuiyo on Sunday, said the search of the building at 44, Aguiyi Ironsi Way, Maitama, Abuja, led to the discovery of keys of 45 exotic cars, 21 Certificates of Occupancy, arms and ammunition.
The statement by the DSS reads in part: The Department of State Services (DSS) wishes to inform the public that on 24th February, 2017, between 2100 hours and 0242 hours, the Service executed a search warrant, at the property of Dunes Investment and Global Properties Ltd, located at No 44 Aguiyi Ironsi Way, Maitama-Abuja.
The operation was informed by intelligence that some incriminating items were stashed in the boots of cars parked at the property, particularly a Mercedes Benz S550 (BWR 135AH), and Masarati 4.7 (BWR 207 AJ), which were subsequently confiscated.