The Department of Security Service (DSS) has reportedly sheds more light on the corruption allegations against the Acting-Chairman of the Economic and Financial Crimes Commission (EFCC) Ibrahim Magu in a new seven-page letter.
The letter appeared to have been written in response to a request by the Attorney General of the Federation and Minister of Justice, Abubakar Malami.
No fewer than 12 indicting documents attached as appendixes to the response letter the DSS sent to Malami, through one Folashade Bello acting on behalf of Director-General of DSS, pushed the relentless campaign against Magu's confirmation miles ahead.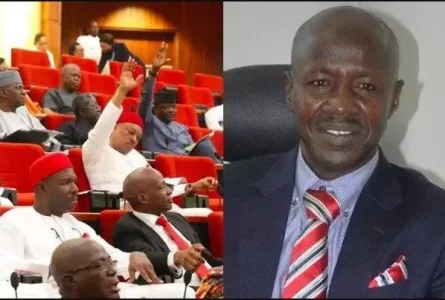 According to document seen by DailyTrust, one contained minutes of the Police Service Commission's 20th Plenary Meeting chaired by retired DIG Parry Osayande on December 20, 2010.
The commission indicted Magu of charges made against him and awarded Severe Reprimand for "action prejudicial to state security, withholding of EFCC files, sabotage, unauthorised removal of EFCC files and acts unbecoming of a police officer." DSS pointed out that this is the highest punishment in the police short of dismissal.
Meanwhile, the medium said Attorney General Abubakar Malami could not be reached to confirm if he received this memo from DSS and if, despite it, he advised the Presidency that Magu had been cleared of all the allegations, which led to his second, failed nomination as substantive EFCC Chairman.
Read more:
DailyTrust