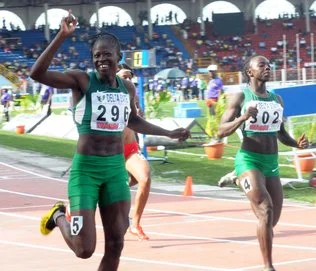 Team Nigeria have pulled out of the Youth Olympic Games because of the open discrimination shown to its athletes in China.
Reports emerged that the Nigerians were quarantined by the hosts because of the fear that they could be carriers of the deadly virus Ebola.
It is understood that the Nigeria contingent was isolated from other countries,and were stopped from sharing the same training facilities with other athletes from other countries.
Since the Nigerians arrived in Nanjing for the Youth Games which commences on Saturday and will end on August 18,they have not been able to mix with people from other countries.
Irked by the treatment,the Director General of the National Sports Commission,Gbenga Elegbeleye Nigeria in a statement protested about what was meted out to the Nigerians,noting that they are withdrawing from the Games.
The Nigerian bigwigs: Sports Minister, Dr Tammy Danagogo, Nigeria Olympic Committee, NOC, President, Sani Ndanusa,DG NSC Gbenga Elegbeleye after a meeting agreed that it was best to pull out of the Games in protest to China's treatment.
Nigeria went to the games with twelve athletes and would have participated in three sports: Athletics, Wrestling and Beach Volleyball.
Team Nigeria have been instructed to leave China immediately after the government decided to withdraw them from the Games.