Serious anxiety has been rocking the opposition Peoples Democratic Party (PDP) following alleged moves by two of its governors to defect to the ruling All Progressives Congress (APC).
Reliable party sources told The Nation that despite the tough stance of PDP chieftains during its national conference in Abuja last week, many participants at the gathering were actually jittery on account of reports that some of the party's governors might be on their way to the APC.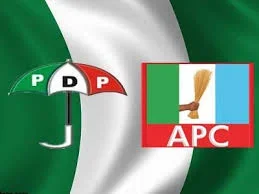 Governor Dave Umahi of Ebonyi State is cited as one of the governors planning to defect along with other prominent PDP members in the state.
The governor was conspicuously absent at the Abuja confab.
Already, a former director of governor's election in Afikpo, Azu Agboti, has already crossed to the APC.
Also said to be planning to dump the PDP for the APC is a governor from the Northeast.
Some of his close political associates recently joined the ruling party.
The northeast governor in question was in attendance at the Abuja conference of the party where efforts to re-brand and reposition the party ahead of 2019 general elections were discussed.