Pandemonium on Tuesday in Oredo Local Government Area of Edo State after a local government pensioner, identified as Sunday Oboite, slumped and died during screening.
It was learnt that Oboite, 75, died at the reception of the local government secretariat.
The late pensioner, who retired from the Works department of the council, was at the secretariat for screening which the council had directed the pensioners to undertake before they would be paid their 10-month pension arrears.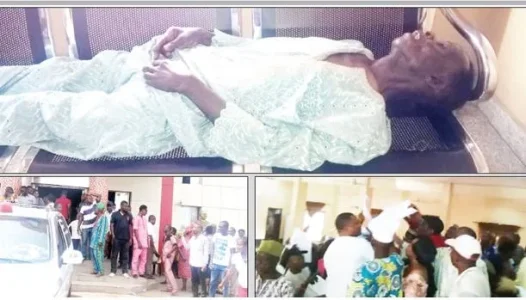 He was said to have been offered a bottle of beverage and some water by a Good Samaritan after he complained of hunger.
He, however, slumped at about 1.20pm, before he was confirmed dead by some doctors at the council.
According to a source, his death sparked a protest among other pensioners, who were enraged by what had befallen their colleague.
According to PUNCH, "Some of them complained that they had presented themselves for screening at the secretariat at about 8am, but were later informed to go to Urhokpota Hall, about 100 metres away. They also decried the delay in the exercise, which took hours before it commenced."