One of the operatives of the Economic and Financial Crimes Commission, EFCC, allegedly battered a 19-year old canteen attendant after impregnating her in Lagos State, western Nigeria.
The teenager was allegedly assaulted at the EFCC office located on Awolowo Road, Ikoyi, Lagos where the operative works as exhibit keeper.
The victim, Blessing Nwokpa, who was a canteen attendant at the EFCC premises was allegedly impregnated by the EFCC operative identified as Okeke Edward, who refused to take responsibility for the pregnancy.
P.M.NEWS gathered that rather, Okeke allegedly offered her money to terminate the pregnancy but Blessing refused.
For her obstinacy, Blessing who was living with Edward as a squatter, allegedly became an object of battering and assault by him.
Edward allegedly threw her and her belongings out of his house and sent her away from his house at 23, Akinseji street, Fadeyi.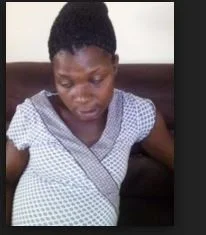 Blessing, who is now seven months pregnant, became homeless and could not feed herself after she was sacked from the canteen when she became pregnant.
Frustrated by Edward's action, Blessing went to EFCC office where Edward works to request for money to feed and for ante-natal care.
When Edward saw her at EFCC premises, he allegedly descended on her and battered her to the extent that she collapsed and was later rescued.
Sources said the intervention of senior officers saved Blessing from further battering.
Following the assault, Blessing went to the Legal Aids Council of Nigeria whose office is located in Ikoyi and reported the matter.
P.M.NEWS gathered that Blessing has been referred to an NGO located in Ogba area for assistance.
Read more:
PM News