The Economic and Financial Crimes Commission (EFCC) has seized bullet-proof vehicles, huge cash and jewellery from five prominent Nigerians fingered in the money laundering allegation against former Petroleum Resources Minister, Mrs Diezani Alison-Madueke.
EFCC and its British counterpart, National Crime Agency (NCA), are probing the suspects for allegedly conniving with Alison-Madueke to commit the crime, it was learnt yesterday.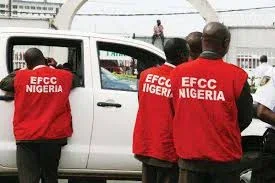 The former minister was arrested in London on October 2 for alleged money laundering, bribery and corruption.
EFCC has restricted the movement of the "high-profile" suspects to Nigeria, pending the conclusion of investigation.
Some of them may be extradited to the United Kingdom (UK), if the former minister is going to face trial.
According to investigation, EFCC is still searching the companies and homes of more suspects linked with the former minister, following fresh clues.
Most of the areas under surveillance are in Abuja and Lagos.
A top source said: ''It is too early to declare whether they are guilty or not. But in line with international best practices, the EFCC has invoked the assets forfeiture clause in its Act to seize some choice bullet-proof vehicles, huge cash and jewellery from these suspects.
''The movement of the affected suspects has also been restricted to Nigeria pending the conclusion of investigation.