Hosni Mubarak, Former President of Egypt has been freed from detention, six years after being overthrown.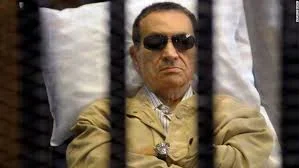 Aljazeera reports that his lawyer Farid al-Deeb today confirmed that Mubarak had been freed. Mubarak left a military hospital in southern Cairo and went to his home in the northern suburb of Heliopolis, his lawyer said.
Mr Mubarak was sentenced to life in prison after being convicted in 2012 of complicity in the killing of protesters who died at the hands of security forces in February, 2011.