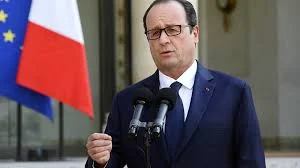 French president François Hollande has confirmed that the EgyptAir plane has crashed. In a TV press conference he said "no hypothesis" could be ruled out on the causes of the crash.
He also offered help from France in the search for debris. Hollande also offered his "solidarity" with the families of those on board.
Also, officials in Athens are convinced the EgyptAir plane has crashed.
In an interview with the Guardian, the head of Greece's air traffic controllers board insisted there was "no chance" MS804 was still in the air.
"I consider it a fact that the plane has crashed. There is no chance of it still being in the air," Serafeim Petrou said. "Most probably, and very unfortunately, it is at the bottom of the sea."
The veteran 61-year-old air traffic controller clarified that the plane was lost on radar screens 18.5km "south of the Greek boundary" in Cairo FIR.
"It did not give any vocal or electronic signal before it disappeared," he added. "Nothing can be excluded," he said when asked what may have caused the crash.
"An explosion could be a possibility but, then, so could damage to the fuselage. I think at this point we are talking about wreckage, wreckage at the bottom of the sea and tracing the cause is going to take time."
Greece has scrambled two C-130 military aircraft, two helicopters (a Super Pumer and Sea Hawk) and a frigate as part of a search and rescue operation now taking place 130 nautical miles south east of the Aegean island of Karpatho

Source: theguardian