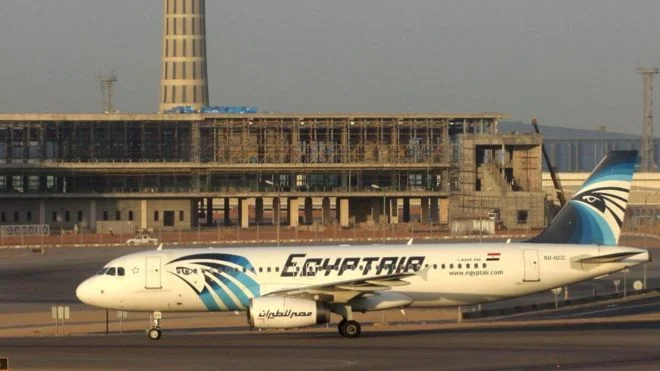 There is an unconfirmed report that the plane crashed in the Mediterranean 130 miles from the Greek island of Karpathos. AFP's Jean-Marc Mojon cites a Greek aviation source for the report.
"At around 0029 GMT (3:29 am) when it was in Egyptian airspace, the plane disappeared from Greek radars... it crashed around 130 nautical miles off the island of Karpathos," the source told AFP.
The official said the last communication with the pilot was three minutes before the plane disappeared, and that there had been no distress call.
The Greek defence ministry said it had dispatched two search planes and a frigate to the area.
EgyptAir continues to appeal to the media to "abide" by official press releases on the missing plane.
Below is a RECAP So Far:
Flight MS804, an EgyptAir Airbus A320 en route from Paris Charles de Gaulle to Cairo, has disappeared from radar with 66 people on board.
EgyptAir says the plane's emergency devices – possibly an emergency locator transmitter or beacon – sent a signal that was received at 4.26am local time, two hours after the last radar contact.
Among several conflicting reports, Egypt's army denied receiving a signal from the plane.
The plane left Paris at 11.09pm on Wednesday night (21.09 GMT).
The airline said contact was lost around 16km/10 miles inside Egyptian airspace at 2.30am local time (00.30 GMT).
The plane was carrying 56 passengers and 10 crew: two cockpit crew, five cabin crew and three security personnel. The airline said two babies and one child were on board.
Among the passengers were 30 Egyptians, 15 French, two Iraqis, and one each from the UK, Belgium, Kuwait, Saudi Arabia, Sudan, Chad, Portugal, Algeria and Canada.