Seif Eldin Mustafa, hijacker of the Egyptian plane, Egyptair MS 181, has been arrested, state media reports.
The EgyptAir plane was hijacked while flying from the Egyptian Mediterranean coastal city of Alexandria to the capital, Cairo, but was forced to land in Cyprus, following a bomb threat by the hijacker.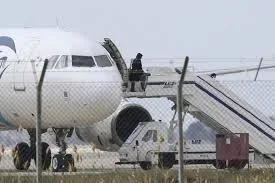 "It's over," the Cypriot Foreign Ministry announced at 2:41 p.m., after a standoff that lasted more than five hours.
The suspect was identified by Cypriot and Egyptian officials as Seif Eldin Mustafa, an Egyptian living in Cyprus. He had told the pilot that he was wearing a suicide belt and threatened to detonate it.