The Ekiti state councils of the Nigeria Labour Congress (NLC), Trade Union Congress (TUC) and Joint Negotiation Council (JNC) have issued another 48-hour ultimatum to the government to pay the December deductions or face an industrial action.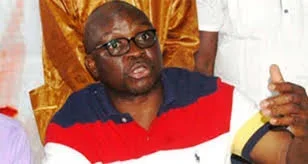 The December 2015 salary was paid to workers in March but only the net was paid without deductions to cooperatives, check off dues to unions, among other miscellaneous payment totaling N512 million.
The state TUC boss, Odunayo Adesoye, told reporters that labour leaders are meeting at press time to discuss what would be the next line of action, consequent upon another 48 hours ultimatum issued to the governor to comply with the early demand.
Some workers, who pleaded for anonymity, slammed labour leaders for "taking it easy" with the government when many of them had turned to "beggars".
Adesoye described the allegation as unfounded, saying only N12 million of the aggregate of the deductions will go to trade unions and their affiliates.
He said: "What we are advocating for is the payment of the deductions, so that cooperative societies will be viable enough to lend money to workers to confront the present hardship.
"The main reason why we issued ultimatum to government on deduction was that, we agreed at the meeting that all deductions on December salary be paid and on that we stand."