Ekiti State Governor, Ayodele Fayose, has described what former State Secretary of the Peoples Democratic Party, Mr Tope Aluko, as a new distraction from the All Progressive Congress in Ekiti State that former president Goodluck Jonathan gave him the sum of $35million cash to prosecute the state governorship election.
Special Assistant on Public Communications and New Media to the Governor, Lere Olayinka, said Aluko was already beclouded by his desperation to seek revenge against him because of his refusal to make him his Chief of Staff, such that he (Aluko) was not mindful of committing the criminal offence of perjury.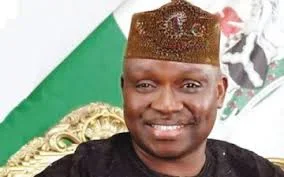 Related: Fayose's Ex Aide Reveals How Ekiti Election Was Rigged, Tenders Evidence
Olayinka sais Aluko should report himself and be tried for perjury and committed to prison for three years, since what he is now saying is different from what he said under oath at the Election Tribunal being the only witness called by the PDP and Governor Fayose.
"If after giving evidence under oath at the tribunal that the Election was free, fair and credible and that security agents, including soldiers performed their duties creditably well, saying something else more than one year after is an admittance by Aluko himself that he is not a stable character", he said.
Last edited: