The Nigerian Army Council has retired Brig.-Gen. Aliyu Momoh, who was indicted in the conduct of the 2015 elections in Ekiti State; the former spokesman of the Nigerian Army, Brig.-Gen. Olajide Laleye, and other officers.
The retirement of the senior officers was in connection with the recommendations of the panel set up by the Army authorities to look into allegations of professional misconduct against military personnel in the conduct of the June 14, 2014 governorship poll in Ekiti State and the 2015 general elections, PUNCH gathered.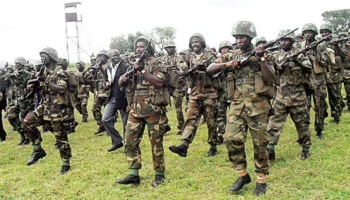 The panel was also directed to investigate the roles played by the military officers who participated in the August, 2014 governorship election in Osun State.
An officer of the Nigerian Army, Capt. Sagir Koli, who participated in the supervision of the poll, had leaked an audio recording of a meeting, featuring Fayose, Momoh, former Minister of State for Defence, Musliu Obanikoro; former Minister of Police Affairs, Mr. Jelili Adesiyan; and the PDP governorship candidate in Osun State, Senator Iyiola Omisore, among others, where the alleged rigging was hatched.