The Islamic Movement of Nigeria, IMN, has accused the Kaduna State Governor, Mallam Nasir El-Rufai of plotting to kill its members in order to scare people away from the group.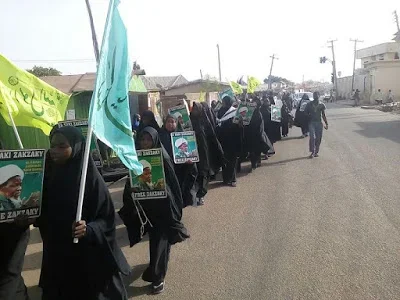 A statement by IMN President of Media Forum, Ibrahim Musa, alleged that El-Rufai was on a "mission to provoke its members to another killing spree."
The statement reads in part, "We are aware that the Nasir El-Rufai-led Kaduna state government is in a mission trying to provoke IMN members to justify another killing spree on them having failed in an earlier attempt using security men dressed as thugs to attack, kill and loot property of IMN members.
"We are also aware that the state government is planning to clampdown on IMN members in the state, killing as many as possible in the most cruel means possible, in order to scare people away from the IMN. The Elrufai government is also wasting scarce state resources in sponsoring some dubious religious clerics to preach hate and enmity in the state, rather than investing in solving the myriads of problems bedevilling the state.
"We call on Mr. Nasiru El-Rufai to desist from further suppression of IMN members and the brazen violations of our Rights to worship, associate and not to be discriminated against. Moreso, he has no business deciding what faith people adhere to.
"No amount of suppression, destruction of property, or wanton killing can wipe out our faith. Hence all his efforts shall be futile.
"It is now a duty upon the public to speak out against the continued murder of IMN members by the Nigerian government or choose to live with the impending repercussion of such uncivilized behavior."