Emmerson Mnangagwa appears well-placed to return to a leading role in Zimbabwe following the army's takeover in response to President Robert Mugabe's sacking of the former vice president.
Here are
1. born 15 September 1942 is a Zimbabwean politician and former Vice-President
2. Nicknamed "Ngwena" (The Crocodile) because of his fearsome power and ruthlessness, the 75-year-old has a reputation for taking no prisoners.
3. His political life started at Zimbabwe's independence in 1980 when he was appointed Minister of State Security until 1988 when he was made the Minister of Justice. In 2000 he became Speaker of Parliament until 2005 after an alleged fallout with the president he was made Minister of Rural Housing from 2005 to 2009 which was largely seen as a demotion.
4. After playing a critical role in retaining power by brokering a power sharing pact for Robert Mugabe after the disputed 2008 elections he was elevated to be Minister of Defence from 2009 to 2013 after a brief stint as Minister of Finance in the same year. He served as Minister of Justice, Legal and Parliamentary Affairs from 2013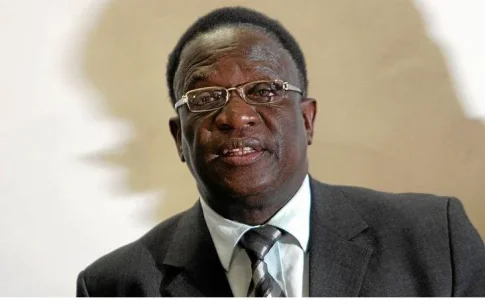 5. In the ruling ZANU-PF party Mnangagwa was thought to be one of the most powerful figures and as head of the Joint Operations Command, he was also very influential in government and the state security apparatus this made him a leading candidate to succeed Robert Mugabe.
6. On 10 December 2014, President Mugabe appointed Mnangagwa as Vice-President of Zimbabwe
7. He was poisoned on 12 August 2017 at a ZANU-PF Youth Interface rally in Gwanda, Matebeleland South according to Zimbabwean News Website iHarare.com
8. On 6 November 2017 he was dismissed from his government post as Vice President by Robert Mugabe for allegedly plotting against the government. Mnangagwa subsequently fled to South Africa citing "incessant threats" against him and his family.
9. He is being eye to be the brain behind the storm Zimbabwe is currently facing and pose to replace Mr Mugabe
10. He received training in Tanzania, Egypt and China. In China, Mnangagwa attended a school of ideology and had a stint at another for military engineering.