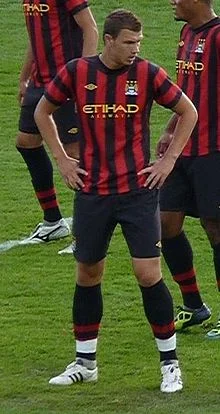 Manchester City have announced that Bosnia-Herzegovina striker Edin Dzeko has extended his contract with the club,agreeing a new-four year deal to remain at the Ethiad stadium.
Dzeko is following in the paths of: Vincent Kompany, David Silva,Sergio Aguero,Samir Nasri and Aleksandr Kolarov in further signing new deals to remain at the Blue side of Manchester.
The Bosnian who is pleased to sign a new contract said: "I'm really happy here at City, it's a second home to me, so it was an easy decision to stay for the long-term," he told the club's official website.
"I knew from the beginning when I started here that I wanted to stay for a long time - I can't see any place better than here.
"I'm settled perfectly to life here, I know my teammates, the club, the team, very well and I feel like I can improve even more.
"Over the last three and a half years we've made history together but I feel like we are only at the start of something really special.
"There are still so many objectives and goals that I want to reach from my career in the game and I believe that I am in the perfect place to achieve them all.
"The fans have always shown so much faith in my ability and I feel so much love, both from supporters inside Manchester and from those all over the world."
Despite the avalanche of striking options at City,Dzeko has adequately filled his shift when called up to play.
Photo Credit: Wikipedia
Last edited by a moderator: