The Parents of 14-year old Ese Oruru, who was abducted, married off, raped and impregnated has cried out over her continuous detention in Police Protective Custody.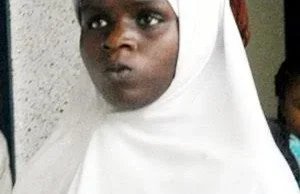 THE NATION reports that her parents said they were no longer comfortable with their daughter's continuous stay in police protective custody, which they described as uncomfortable for a nursing mother and her baby.
Mr. Charles Oruru, the father of Ese said he was sad that her daughter and the new baby were confined in the officers' mess.
He said: "My daughter has been yearning and even crying to go back to school as her classmates are now ahead of her, she has lost a whole year to this saga and she is still in Police protective custody while the accused person is enjoying freedom on bail. I am begging the Delta State Government, Nigeria and the world at large to come to our aide.
"Nowadays without education one is going to nowhere, so she is not doing anything in their custody, while the accused move freely and she is suffering there. I have called on the Delta govt. to assist because I have five children which Ese is the second to the last child, so my state should come to my family aide".
Also, speaking, Rose, the mother of Ese said, "People from Bayelsa have been assisting us and even the police officers, we want to leave there to our house because the place (Police Officers Mess) is not a good place to stay and bring up a new born baby.
"We are just abandoned in a room that we are not even allowed to go out. We stay with our trash bin which is smelling. We and the new born baby are compelled to breathe the offensive smell. So the world should note that we are being marginalise for no reason, as the boy Yunusa is still owing me some money after taken my daughter to Kano to impregnate her for me".
Yunusa Dahiru, Ese's alleged abductor, has been standing trial at the court for criminal abduction, illicit sex, sexual exploitation and unlawful carnal knowledge of the minor. The Federal High Court sitting in Yenagoa adjourned Ese's case to December 8.