The Management of Ethiopian Airlines has submitted a formal proposal to take charge of troubled carrier Arik Air, which accounts for more than half of air passenger in Nigeria, The Nation quoted an official statistics.
Esayas WoldeMariam, Ethiopian Airlines' managing director of international services, said the airline has outlined its terms and conditions to the Nigerian government and waiting for its response on the matter.
"We are capable and desirous of handling the airline," WoldeMariam noted without specifying details of the offer.
The Ethiopian Airline chief said he expects competition for Arik from international airlines.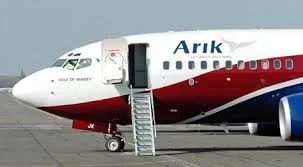 Arik is operated by Asset Management Corporation of Nigeria (AMCON) since government's bailout in February.
The bailout was forced by a prolonged crisis occasioned by cancelled services, unpaid staff salaries and mounting debt.
Arik's Managing Director, Capt. Roy Ilegbodu, said in August the company had stabilized under AMCON's leadership, with "services running smoothly and salaries paid."
The Asset Management Corporation of Nigeria (AMCON) had denied plan to sell Arik Air to one of the leading airlines in Africa, Ethiopian Airlines.
The organization said it will inform Nigerians and stakeholders on any development with Arik Air.