Former Captain of Cameroon, Samuel Eto'o may bag 10-year- jail term over tax fraud while at Barcelona, Spain.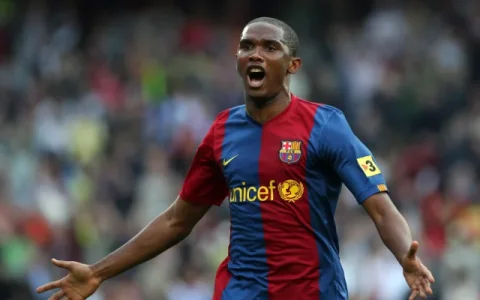 Spanish newspaper, El Pais reports that a Spanish prosecutor is pursuing the striker for alleged tax fraud while at Barcelona.
Eto'o, four-time African Footballer of the Year is being accused of failing to reveal his full income to the authorities, which could land him a long spell behind bars if found guilty.
The 35-year-old former Barcelona striker, who currently plays in Turkey, has been accused of fraud that could amount up to €3.46 million.
Eto'o, who has also featured for Inter Milan and Chelsea, is alleged to have been accused of failing to declare his sponsorship revenues, including those from a major boot manufacturer, to the authorities when filing his tax returns between 2006 and 2009.
If the player is found guilty, it means he avoided paying the top tax rate, which at the time stood at 45 per cent.
Four charges are leveled against him which could amount to 10 and a half years behind bars and a fine of €14m.
Additionally, his agent at the time, Josep Maria Mesalles, would also stand trial if the reported prosecution effort is accepted.
Eto'o is not the first star associated with the Camp Nou club to come under scrutiny for his tax returns, with Lionel Messi handed a 21-month suspended prison sentence in July after being found guilty of tax evasion.
The Argentina forward only avoided time behind bars due to his previously clean criminal record.
Eto'o played for five successful seasons at the club between 2004 and 2009, during which time he scored 129 goals for the club in 201 appearances.