Wife of the President, Aisha Buhari, on Sunday claimed that, the Nigerian High Commission in the United Kingdom spent £32, 000 as landing fees for private jets of former First Ladies.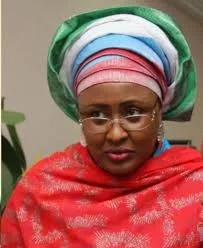 She made the disclosure while absolving herself of corrupt allegations levelled against her by an online news platform.
Mrs Buhari was accused of abusing her office by fleecing Nigerians of their hard earned tax money.
Responding to the allegation, the wife of the President stressed that what the High Commission spent on her recent visit to the UK was a far cry from what was expended during the previous administrations.
In a statement signed by her Special Assistant on Media, Adebisi Olumide-Ajayi, Mrs Buhari said the "purported internal memo within the Consulate" quoted in the news report had no direct link to her.
According to her, the new accusation, had still not been able to substantiate where she made any direct contact with the mission for anything.
The statement reads, "The High Commission has its internal administrative procedure, and it is not within the purview of the wife of the President to ask for diplomatic files.
"Furthermore, that the said memo showed little or no knowledge of Her Excellency's itinerary proves the simple fact we earlier submitted that she had no direct business with the embassy to warrant the accusation of waste or corruption insinuated in the report.
"Part of the wife of the President's trips abroad are for her NGO, which is not funded by the Government, and It is not uncommon to have stop over in Britain like any other country as the case may be.
"According her VIP treatment is simple protocol for a personality of her status, which is done all over the world, and at no point was she offered anywhere else.
"The High Commission provided the lounge and Hajiya Buhari was not involved in the transaction.
"This is even a far cry from the £32,000 expended in the past as landing fees for private jets of former first ladies."