The Movement for the Actualisation of the Sovereign State of Biafra (MASSOB) has dismissed the claim of former President Olusegun Obasanjo that Biafra is dead.
While delivering a keynote address at a public discussion on Biafra in Abuja on Friday, Obasanjo had argued that no Nigerian should give vent to the agitation because it was "a dead issue".
According to the Cable, Samuel Edeson, director of information, released a statement on MASSOB's behalf on Monday, saying Biafra outlived Obasanjo, who tried to destroy it when he was in power.
He alleged that the former president offered them huge amounts of cash in Ghana-must-go bags in 2006 for them to abandon Ralph Uwazuruike, their leader, in prison.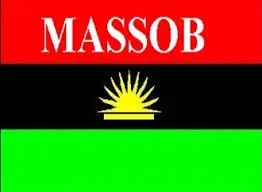 "Obasanjo is ignorant of Biafra… MASSOB wishes to reply Obasanjo that Biafra is not dead and will never die," the statement read.
"Obasanjo should have known that after killing over 1000 MASSOB members at Umulolo, Okigwe, in Imo State on March 29, 2003, which he masterminded through Achike Udenwa, then governor of Imo state, it didn't stop our agitation.
"In 2006 while Uwazuruike was in Keffi prison, Obasanjo invited us to Aso Rock where he promised us millions of naira and to send us out of the country. Ghana-must-go bags of money just for us to forget Uwazuruike to die in prison, but we rejected the offer", he said
THECABLE
Last edited: