Conversations between sacked Sunderland Football star, Adam Johnson and a 15-year old girl he reportedly exploited were read in court today.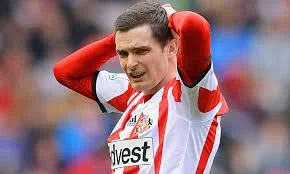 Johnson admitted to two charges of child grooming and sexual activity with a minor but denied two other charges of sexual penetration with a 15 year old girl; Mirrror UK reports. The prosecuting attorney Kate Blackwell QC told the court Johnson's alleged victim was a teenage superfan.
The pair began to exchange messages on Whatsapp and the prosecution says that the defendant was made aware that the victim was 15, with almost another year to wait until she became 16,but he couldn't wait for her.
See details of some of their chats below:
The footballer asked her: "You in the last year of school?"
She replied: "Year 10".
When discussing New Year's Eve plans on December 31 the teenager told him she was going to a family party, the court hears.
"Are you allowed to drink?", Johnson asked.
He also asked the 15-year-old: "Where do you go out?"
She said: "I am not old enough to go out haha."
Johnson replied: "You look old enough though."
The teenager told him: "No one believes I am just 15." He asked her when her birthday was.
The girl even wished him congratulations on the birth of his baby with partner Stacy .
"I love the name it's so cute", she told him.
Johnson asked: "Are you going to be forward with me?"
"I'm not shy", the teenager replied.
The teenager messaged Johnson to say she was drinking vodka, Ms Blackwell tells the court.
"It takes away the nerves of meeting people at the party", she said.
Johnson replied: "I thought you meant something else."
The girl asked: "What?"
Johnson: "You know what or do you need me to show you?"
The girl asked again: "What?"
Johnson: "You won't say that when I see you."
Following the pair's 20-minute meet-up at a secluded car park in County Durham, Johnson and the girl again exchanged messages, the court hears.
Johnson said: "Thought I would have got a thank you kiss for the shirt."
Girl: "Didn't ask."
Johnson: "Well I'll come get one."
Girl: "Really?"
Johnson: "If you want me to."
Johnson: "Am I only getting a kiss?"
Girl: "Depends what you're asking for."
Johnson: "Depends what you're up for - a little bit more than kissing. A bit of feeling."
Girl: "Maybe."
Johnson messaged the girl: "It was class - just wanted to get your jeans off."
It was at this point that Adam Johnson's girlfriend walked out of the courtroom as she was getting pissed off by the explicit messages.
Ms Blackwell,the prosecuting attorney says when the schoolgirl was in the car with Johnson she took a snapchat video of the conversation to prove to her friends she was there.
Johnson asked the teen for a kiss before putting his hand down her jeans and then moved the car to a more secluded spot where he told the girl to perform a sex act on him.The Court is told.
Johnson set up a new Snapchat account to stay in touch with the teenager.
During a message exchange, Johnson asked the girl: "Any chance of a rude one?"
She replied: "Maybe"
He then wrote: "Ha, well I will be waiting patiently, lol"