The Director of Defence Information, Maj.-Gen. Chris Olukolade, has confirmed that a bomb exploded at a Nigerian Army barracks in Gombe on Sunday.
Olukolade told newsmen in a telephone interview from Abuja on Sunday that one soldier died while another was wounded by the explosion.
He however said normal activities had thereafter been ongoing at the barracks in Gombe where the incident occurred.
"Intelligence deduced from credible information earlier received on this plot confirms the vigilance of some members of the public,'' Olukolade said.
A suspected female suicide bomber also died when the bomb exploded at a military quarter-guard in Gombe. The female bomber, riding on a motorcycle and on approaching the quarter-guard of the 301 Battalion, hugged a soldier. This had led to the bomb exploding, and killing both of them.
An anonymous source, however, claims that more than one soldier was injures. The source said the explosion also injured other soldiers at the quarter-guard, and they were quickly rushed to the military hospital for treatment.
Immediately the explosion occurred, soldiers cordoned off the road leading to the barracks. Also, shops and other business centers which were opened at that time were hurriedly closed by their owners when the blast occurred, while many other people ran helter-skelter.
A resident of the area, who spoke anonymously said that the occured around 11.20 a.m. He said he also heard soldiers shooting in the air, apparently to scare people.
The source also said that he saw some injured persons being conveyed in vehicles from the scene, while soldiers blocked the road and stopped people from going to the scene of the incident.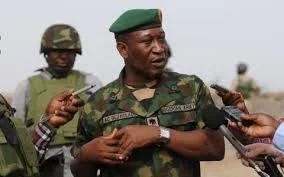 #gombe #bombblast