As controversy continues to trail the emergence of a new version of the 2016 budget, Nigerian Pilot has revealed how the original budget was withdrawn and taken to a highbrow hotel in Abuja, where the document was doctored by highly placed government officials and civil servants.
According to NigerianPilot, the presidency was scandalised when details of the over bloated budget estimate for the presidency/Aso Rock presidential villa went viral in the media.
As a damage control measure, the Presidential Liaison Officer for the Senate, Ita Enang and the Minister of Finance, Kemi Adeosun, were said to have approached the Clerk of the National Assembly during the yuletide break to retrieve the original budget presented to the joint sitting of the National Assembly by President Muhammadu Buhari on December 22.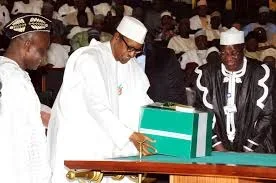 It was gathered that the Clerk of the National Assembly took it for granted that the duo must have got the nod of the leadership of the Senate and handed over the document to them without cross-checking with the Senate leadership. The budget was thereafter taken to a highbrow hotel in Wuse 2, located near the headquarters of the Economic and Financial Crimes Commission, EFCC, where some civil servants were lodged for about a week to effect changes to the budget, especially the estimates.
"The doctored document was supposed to be returned to the Clerk of the Senate before the resumption of the National Assembly, but due to unforeseen circumstances, the new document could not reach the Senate before last Tuesday when the upper chamber was supposed to commence deliberation on the estimates", Source said.
NIGERIAN PILOT
Last edited: