Wont for his yoruba accent and his hilarious glasses, Folarin Falana, popularly known as Falz The BAHD guy is one of Nigeria's most talented artistes with an incredible sense of humour. Falz, the son of the foremost Nigerian lawyer and rights' activist, Femi Falana, has done so well for himself in the Nigerian Entertainment industry and grace our television screens. Here are things you probably don't know about him.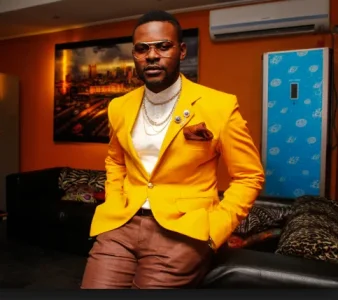 Folarin Falana was born on October 27, 1990.


Folarin's stage name 'Falz the Bahd Guy' was deduced from, Falz an abridged version of his last name, Falana. BAHD Guy is a title and acronym that means Brilliant And Highly Distinct.


Falz shot into the music scene in 2009, after releasing his single 'Marry Me' which featured Yemi Alade and Poe. In 2015, the single won him a nomination for the 'Best Collaboration of the Year' category at the Nigerian Entertainment Awards


Falz has a clothing line 'Ello Bae', which he started after his hit single 'Ello Bae' in 2014.


The rapper became an Instagram sensation with his funny 'ello bae' skits, however he says he is not a comedian. "I have a passion for film, so acting is something I would probably do sooner than later. I plan to have my own TV show. I'm not a comedian"


Falz has a unique genre of music, which he called 'Wazup Music'. According to him, the fusion of yoruba language (with an accent), English comical rap lines and creatively delivering your message without losing your audience is the 'Wazup Music'


He attended St Leos Catholic Primary School, Ikeja Lagos, Olashore International Secondary School, Osun State and studied Law at the University of Reading in the United Kingdom. He returned to Nigeria to attend Law school and was called to bar in February 2012.


His Passion for Law was dimmed by his hectic entertainment schedule. He is no longer able to practice, but may still look into it in the future.


He has an undisclosed relationship. He has been tactiful at keeping his relationship private. Guesses can only be made about who he is really in a relationship with. He was rumored to be dating one of Wizkid's ex-girlfriends, and also has a soft spot for Simi. But no one can really say who the rapper's 'bae' is.


So far Falz has won Four awards this year(2016), Album of the year()Stories That Touch), Best Afro Hip Hop Video ( Karashika), Best Actor in a Commedy Movie/Series, Viewer's Choice Best New International Act.