The Peoples Democratic Party, PDP on Tuesday said that the revelation by a former Minister of Aviation, Mr Femi Fani-Kayode, that the All Progressives Congress, APC had sympathy for insurgents had vindicated its earlier position on the party.
PDP National Publicity Secretary, Mr Olisa Metuh made this known in a statement in Abuja.
The PDP had recently linked the utterances of some APC leaders to the spate of insurgency and sectarians violence in the country. The party had also said that "the APC is a party of religious and ethnic bigots averse to the country's unity.''
The statement described the decision by the former minister to dump the APC for the PDP as a vindication of its stands on the APC.
"The revelation by the former minister that the APC has sympathy for insurgents further confirms PDP's earlier position linking APC's utterances to the spate of insurgency and sectarians violence in the country. We have now been vindicated; the truth may be hidden for some time, but it has a way of expressing itself," the statement said.
According to the statement, "the APC had through its utterances, stoke the fires of violence by night only to wear messianic robes in the morning to shed crocodile tears for their victims.''
The statement said that Nigerians were no longer at loss regarding who their real enemies were.
It added that Nigerians could now see why the "APC feels no pain but seeks always to gain political capital out of the bombings and killings in the country.''
It said that having realised that it had been rejected by the people; the APC resorted to using dastardly means including promoting violence and falsehood.
This, the statement said, was to further APC's plot to destabilise the polity; "balkanise the nation and truncate the democratic process".
It, however, said that the scheme had already failed and expressed optimism that a lot of reasonable and respectable Nigerians still in the APC would soon join the PDP.
This, it added, was because such persons had discovered that the agenda of the APC was to promote violence and the personal agenda of a few unpatriotic individuals.
The statement further said that the PDP was ready to accommodate all well-meaning Nigerians into its fold irrespective of religious, tribal and regional affiliations.
It added that the party would remain committed to the national interest.
The former Aviation minister left the APC which he was said to be a founding member, for the PDP on June 2.
He had declared for the APC in June 2013 in Ado Ekiti, Ekiti State, shortly before the APC was registered by INEC following the merger of some political parties.
Fani-Kayode said he left the APC because he considered nation-building as being far more important than party politics, party affiliation or party formations.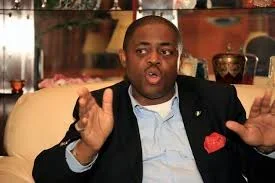 #PDP #APC #Fani-kayode #peoplesdemocraticparty #allprogressivescongress