No fewer than 30 male passengers died in an accident that occurred along the Adeosun area of the Lagos-Ibadan Expressway on Sunday after a trailer conveying them tumbled down the road.
Over 50 other people sustained varying degrees of injuries in the crash, while two rams were killed.
The accident occurred on the portion of the expressway which had been recently reconstructed.
PUNCH Metro reported that about 25 corpses were counted at the at the scene of the accident. Eyewitnesses said about five corpses had been taken to a mortuary.
Other victims of the accident, which occurred around 7am, were not removed until past 9am.
A victim, who lost two relatives, covered the faces of the deceased with clothes and broke down in tears.
Shouting the name of Allah as he wailed, the victim identified simply as Mohammed, refused all entreaties as he knelt down between the two corpses and wept bitterly.
One of the survivors of the accident, who gave his name as Mohammed Seripino, said the trailer was coming from Kaduna and had travelled all night.
He said each passenger paid N1,000 as transport fare, adding that the journey from Kaduna was smooth before the accident occurred.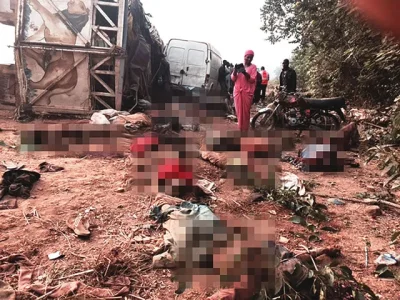 "We are all Hausa. We were coming from Kaduna. Each passenger paid N1,000. This (accident) is not good," he said.
An eyewitness, who gave his name as Yinka Dada, said he was seeing off his son, who was on his way to Lagos, when the accident occurred.
He said, "I saw everything. I was by the roadside when the accident occurred. I was with my son who was going to Lagos when I saw two vehicles speeding as if they were competing in a race.
"The other vehicle was able to control the wheel, while the driver of the trailer lost control, tumbled down the expressway, and spilled out the passengers one after another."
Officials of the Federal Road Safety Corps at the Ibadan Tollgate Unit, who came for rescue operation, refused to comment on the accident.
- PUNCH