A 43-year-old father of three, Edward Herbert set one of his children on fire and doused another in petrol then told a neighbour who heard the commotion that he torched his 3 year old daughter because she "was too beautiful".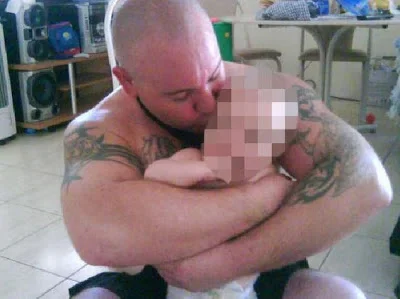 Herbert poured petrol over his three-year-old in front of his partner after spending the day boozing and smoking cannabis then set the little girl on fire and tipped petrol over his seven-year-old daughter, according to Perth Now.
Before the attack, Herbret had reportedly been heavily smoking cannabis at their home in Perth, Australia.
He then allegedly told his partner that "the werewolf is coming at 12:00pm. That's it b****, I am going to kill you", before he fetched a jerry can of petrol and entered his daughters' room.
He then poured petrol over the younger child and set her alight before dousing the older child without lighting her up.
His partner tendered a statement to the court which said Herbert had been "getting angry all the time" and had "doubled his cannabis use" before the terrible incident. She said he had smoked cannabis throughout the day in question and consumed alcohol before he began to get angry that evening.
She tried to keep him calm as his anger escalated and feared for her life.
Off-duty police officer Stephanie Bochorsky was at home when she heard the altercation and screaming from her neighbours. The officer told the court that she ran over and asked the woman if she was OK.
"No, he's setting the kids on fire," was the reply.
Holding back tears, Ms Bochorsky said she ran into the room and found the three-year-old on fire. She covered the child with a blanket to extinguish the fire and pulled both children from the room.
A third child, their son, was removed from the home by another woman before another neighbour entered and found Herbert pacing back and forth.
Herbert admits burning his child but claims he was insane at the time and so not guilty. The trial continues.