Governor Ayo Fayose of Ekiti State on Wednesday accused the Federal government of going after opposition figures that are considered a threat to President Muhammadu Buhari's second term.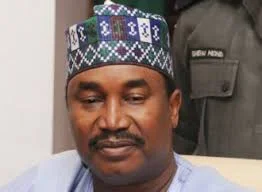 According to his Special Assistant on Public Communications and New Media, Lere Olayinka, Governor Fayose said "it is also obvious that those holding power in Katsina State presently are finding it difficult to match Shema's unprecedented performance while in office and have opted for his persecution just to cover up their failure.
"it is another sad experience in democratic governance in Nigeria that someone like Alhaji Shema, who performed remarkably well as Katsina State governor and even left over N3 billion in the state's treasury is now being humiliated ostensibly just because some people believed that the only way they can perpetuate themselves in power beyond 2019 is by destroying opposition.
"Despite that Alhaji Shema made himself available to the EFCC on September 16, 2016, he was kept in detention for more than two weeks just to humiliate him as directed by those who presently hold power in Katsina and Abuja. Even when Alhaji Shema was arraigned in court on Tuesday, EFCC even went to the extent of asking the court to remand him in prison. This is ridiculous!"
"The international community should ask President Buhari why only opposition figures are the ones being arrested and tried by the EFCC. What has happened to all those petitions submitted to the EFCC against close aides of the president and serving members of his cabinet?
"Obviously, EFCC now exists as the APC Economic and Financial Crimes Commission and those foreign organisations donating funds to the commission should be mindful of their funds being used to persecute opposition."