Nobel Laureate, Prof. Wole Soyinka, Wednesday night went personal against the Ekiti State Governor, Mr. Ayodele Fayose, calling him a 'tout', New Telegraph report.
Soyinka was reacting to what he described as Fayose's attack on judges shortly before his swearing-in as the governor of the state.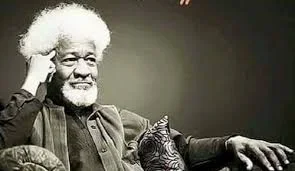 He also called on government to ensure that the nation's laws are respected, including the order of the courts. He challenged security operatives not to take laws into their own hands.
He said: "There must be an end to unlawful detention. If the court has granted someone a bail, it must be honoured, I don't care what the offence is.
"Anybody or institution that does this can only be compared to that tout in Ekiti. That Fayose, he is a tout. He descended on the judges and attacked them openly without any consequence."
Source: New telegraph