Governor Ayo Fayose of Ekiti State said that he's not just criticizing government because of the immunity he has as a sitting Governor.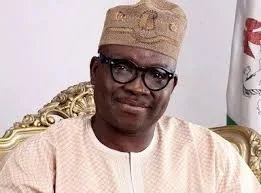 Fayose made the claim during an interview session with PUNCH. The Governor said, ''There are other governors enjoying immunity, why are they not talking? It is about being courageous and speaking for the masses. There are good examples of courageous people in the bible. God commanded Joshua to be courageous and fearless.
''I'm simply obeying the command of God. Daniel was courageous to weather the storms of life. Joseph was courageous even when they lied against him that he slept with the wife of his principal. So was Moses when he confronted Pharaoh. Despite signs and wonders, Pharaoh wanted Moses dead but God said no. As Pharaoh and his soldiers perished in the Red Sea, so my enemies would perish in the Red Sea.